Mail Us- info@starlingholidays.com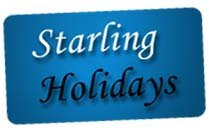 Tour By Theme
Here we have included a wide range of sections and covers almost all possible travel themes in India. India is a land of incredible diversities and endless contrasts. Travelling to India can offer you everything you can imaging and infact much more, truly said. So, it can become really difficult for you to decide that which part of India should you cover with thousands of years of Rich History, Forts, Palaces, Arid Deserts, Jungles, Snow Mountains, Exotic Islands and Mind Blowing Beaches one can almost see the entire world in India.

Further, If you have any specific interest tour, the reason behind this section is to get you out of all the confusion. Here you can simply select your interest in different types of tours based on their theme. You will find several tour packages covering different areas of a particular interest and you can also select from different tours bases on the number of days you want to travel in a particular theme.

Still If you need any customization we will be happy to do it for you, Just send us a query with the package name and the customization that you want in a particular tour and we assure you to reply ASAP.
Other Theme Packages