Mail Us- info@starlingholidays.com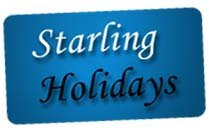 Other Theme Packages
| | | |
| --- | --- | --- |
| Tour | :- | Kerala Tours |
| Duration | :- | 08 Nights / 09 Days |
| Destination | :- | Cochin - Periyar - Munnar - Kumarakom - Alappuzha - Kovalam - Trivandrum |
Day 01 / Arrival Cochin
Arrive Cochin. Meet & Greeted at the airport & transfer to hotel. Cochin, A port town since early centuries, Cochin attracted traders and invaders from the world over. Cochin offerssome fascinating snippets of history and culture. Also known as the spice coast of India. Afternoon proceed for sightseeing tour of cochin including . The Hill Palace Museum, a fully-fledged archeological museum and Kerala's first ever Heritage Museum are the main attractions
(closed on Mondays). Chinese Fishing Nets, this unique style of huge cantilevered fishing nets were erected between 1350 and 1450 AD by traders
from the Court of Kubla Khan, a Chinese King. Santa Cruz Basilica, this historic church was built by the Portuguese and elevated to a Cathedral by Pope Paul IV in 1558. Pope John Paul II proclaimed the Church a Basilica in 1984. The Jewish Synagogue, constructed in 1568, this is the oldest Synagogue in the Commonwealth (closed on Saturdays & Jewish Holidays). The area around the Synagogue, called Jew Town, is the centre for Spice & Handicraft shops. Mattanchery Palace (Dutch Palace), built by the Portuguese in 1557 and presented to the Regent of Kochi (closed on Fridays)
Return to hotel rest of the day free/ shopping at Ernakulam. Evening Witness Kathakali the famous dance drama of kerala. This dance is characterised by some great story telling, amazing costumes and extensive make-up. Start early to see the artist preparing themselves for the show (5 PM ). Watch in detail the ritual worth seeing hour long process of make-up as part of our daily KATHAKALI performance. After the Performance, you will have a unique opportunity to take photographs along with the artists in colorful costumes as a souvenir. Entire performance will be supported with commentary in English. Night stay in Cochin.
Day 02 / Cochin - Periyar ( By road )
Morning drive on a scenic route dotted with plantations of rubber, cardamom, cocoa, green pepper and areca nut, to the wildlife reserve at Periyar. Arrive Periyar and transfer to hotel. Periyar an area known for its undulating hills, spice plantations, and elephant sightings.One of the 27 tiger reserves in India, the Periyar valley in Thekkady is the oldest. Check into your hotel. Either have the rest of the day at leisure or go on a spice plantation tour where you will be enticed by not only the aroma of spices like cinnamon, cardamom, pepper and nutmeg but will also get to know how they are grown, harvested and processed before they reach the supermarkets. In the evening you could go for a boat ride on lake Periyar for an golden opportunity to sight elephants and other animals. Night stay in Periyar.
Day 03 / Periyar - Munnar ( By road )
After breakfast drive to Munnar, the famous hill station of Kerala. Munnar a hill station located 1600 metres above sea level. Once the summer resort of the erstwhile British administration in South India it still retains its colonial charm and is famous for its tea plantations, most of which are privately owned. With its sprawling estates, rolling hills, sparkling waterfalls, picture postcard hamlets and undulating valleys, Munnar is an ideal get-away destination. Day is free to relax and to walk around. Night stay in Munnar.
Day 04 / Munnar
Afternoon sightseeing tour of Munnar tea gardens spread like a green carpet over hundreds of kilometers, lust green hills, a place so difficult to describe, very low population too far from pollution, most of the covered by Tata tea. Also the Raja Malai, a top peak of Munnar where you can see Neel Thar (mountain goats), Muttupetty dam, Indo Swiss project; you can also enjoy boating in the Lake (optional). Night stay in Munnar.
Day 05 / Munnar - Kumarakom ( By road )
Morning drive to Kumarakom near Kottayam and stay in one of the backwater resorts. The panoramic backwaters here offer an ideal retreat to enjoy nature at its best. Kumarakom, a bird sanctuary located on the banks of the backwaters and renowned for its varied avian population. Local varieties such as Waterfowls, Cuckoos and Owls, as well as the migratory Siberian Cranes can be viewed here. Day excursion to the bird sanctuary and optional boat ride to the nearby village through lagoons. Night stay at Kumarakom.
Day 06 / Kumarakom - Alappuzha ( By road )
Morning drive a short distance before switching over to a boat for a through many canals and waterways up to Alleppey. On Arrival embark on your private houseboat and cruise on the Backwaters, a splendid area full of canals, lakes and coves. Your houseboats or 'Kettuvalloms' are luxurious boats with well-appointed bedrooms and ensuite bathrooms. You can sunbathe on the deck or observe the palm fringed landscape from your cabins. Apart from the mesmerizing surroundings it's the life along the coast that adds a touch of exotica to this experience. The locals' travel in canoes and you will find vegetable sellers, fishermen and other traders bringing household goods, door to door in small wooden boats. As you cruise along the backwaters you can ask your captain to stop at villages, paddy fields and other places, enroute. Overnight on board. (Full Board ).
Day 07 / Alappuzha - Kovalam ( By road )
Morning drive to Kovalam & transfer to hotel. the international beach Resort with full of Coconut trees.Kovalam is an internationally renowned beach of Kerala, with three adjacent crescent beaches. Kovalam has been a favorite haunt of tourists, especially Europeans, since the 1930s. A massive rocky promontory on the beach has created a beautiful Bay of calm waters ideal for sea bathing. The leisure options at this beach are plenty and diverse - sunbathing, swimming, herbal body toning massages, special cultural programs, Catamaran cruising etc. Evening enjoy the beach. Night stay in Kovalam.
Day 08 / Kovalam - Trivandrum ( Day excursion )
Morning drive to Trivandrum- gateway to one of the most beautiful states in Kerela. The city presides over one of the most scenic states, stretching along the southern coast of the country, with the backwaters of the Arabian sea reaching deep into the veredant countryside, kerela affords a fascinating experience. Afternoon sightseeing tour of Trivandrum visiting The ancient temple of Sri Padmanabhaswamy is one of the major attractions in the city of Thiruvananthapuram.Napier Museum was built in 1880 and shows a harmonious blending of Kerala, Mughal, Chinese and Italian architectural styles. Sri Chitra Art Gallery has a good collection Tanjore, Mughal, and Rajput schools of art. The Zoo in Thiruvananthapuram has many shady and delightful walks. Later back to Kovalam. Night stay in Kovalam.
Day 09 / Kovalam - Trivandrum ( Departure )
Transfer to Trivandrum airport to board the onward flight.